Keraben's 20MM porcelain tiles are especially appropriate for exterior areas - either public or private: entrance walkways or paths, terraces, beaches, pools, resorts and spas, parks and gardens, garages, urban zones and even areas for industrial use.
This new development represents the perfect combination of porcelain tile functionality with greater strength, together with an aesthetic finish that meets the demands of the finest spaces. The advantages are undeniable, the arrangements are adaptable to the space, and they offer a wide variety of uses.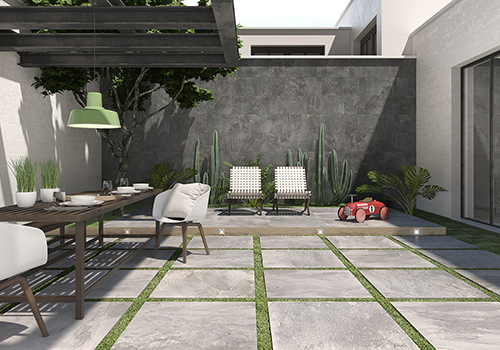 GREATER THICKNESS, HIGHER PERFORMANCE
Spaces free of aesthetic barriers: the new 20MM porcelain tiles are an extension of Keraben's most successful collections. These products help to unite exterior with interior areas with the same design, thanks to conventional tile of 20MM thickness, matching floor covering and special pieces. This allows for perfect visual continuity that helps to make different spaces appear both visually cleaner and more harmonious.
Unlimited possibilities: this new development makes different kinds of installation possible - from dry laying over grass, gravel or sand, to arrangement in the form of a raised floor, and even including traditional laying.
Dry laying is clean and easy, with no need to use bonding agents or other materials. This allows you to make changes over time. On the other hand, raised-floor installation is perfect for situations in which a utility chamber is needed for hiding lighting, plumbing or other installation systems. Finally, traditional installation guarantees exceptional resistance - the ideal solution for pavements subject to vehicle traffic.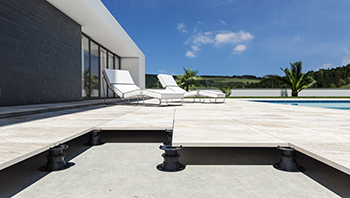 Incredible merging of design and strength: Keraben 20MM thick tiles are made with an Antislip finish classified at C3 / R11 / A+B+C. Meanwhile, the graphics used on the collections draw inspiration from noble materials, such that the pieces offer a solution that unites aesthetics, resistance over time, and safety. For this reason, they are perfect for wet areas, exteriors and locations bearing heavy traffic, where stability is a key virtue.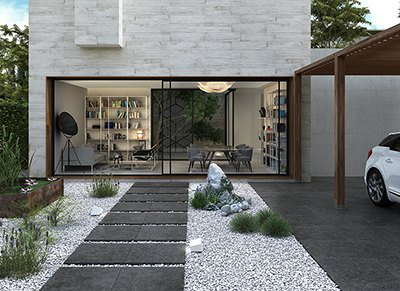 Unbeatable technical characteristics. The 20MM thick collections include all the technical features of porcelain tile, such as long-term resistance, through freezing and thawing cycles, resistance to chemical and atmospheric agents, to heavy traffic, as well as to staining and scratching.
Thanks to their greater thickness, these tiles offer greater resistance to cracking or breakage than normal thickness exterior tile. And when installing over sand, gravel or grass, there is no need to grout the joints - avoiding the accumulation of dirt as well as deterioration of those joints.
With raised installation, the separation of pieces allows for rainwater drainage to lower points, creating exterior spaces with surfaces that are completely level, regardless of the gradient necessary for proper drainage.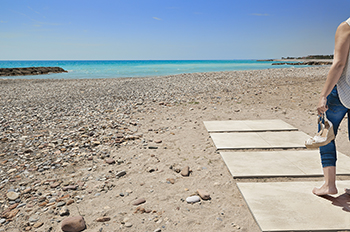 This new product is available in the following collections: Nature (available in Bone and Grey), Uptown (in White, Beige and Grey), Brancato (in Beige) and Stonetech (in Black and Graphite), in 60x60 and 75x75 formats.